I am participating in the Math Work Station Blog Party over at Mrs. Wills Kindergarten!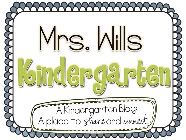 I am so very new to blogging and really got involved when I found out about the Blog Party! I have long been a fan of Debbie Diller's. I used to joke around that without Debbie Diller and Debbie Miller I wouldn't have made it through my first year of teaching (oh so many years ago). So back to the book. As I read chapters one and two I smiled as I read about Debbie's suggestion of two students working together. I have used this system since I began teaching and it really does make all the difference. I also was inspired to make I can lists and place in each of my containers. Here are my answers to the guiding questions:
Materials used by the teacher first, then placed in the station:

Yes

Materials do not change weekly, but rather changed to reflect the students learning objectives:

Yes, although I think that I introduce too much too soon (I'm going to work on this)

All students go to stations daily:

Yes...except for testing days/school programs/and all those pesky interruptions!

Materials are differentiated:

Well... not really although I do sometimes have games "just" for my higher level kids (I need to work on this too!)

The teacher observes work or meets with differentiated math groups:

Yes!

My Math Schedule and Rotation Set Up:




I have 90 minutes on the "books" for math although that is also dismissal time so I really only have 75 minutes.




15 minutes: Whole Group Instruction

60 minutes: Math Work Stations and Guided Math Groups


Math Group Rotation

Low Group-

Meet With Me, Work Independently, Math Station




Med. Group-

Math Station, Meet With Me, Work Independently

Med. Group2- Work Independently, Math Station, Meet With Me

(I would alternate meeting with this group and the High Group)




High Group-

Work Independently, Math Station, Meet With Me

(I would alternate meeting with this group and the Med. 2 Group)
I am very fortunate to have 6 working computers in my room that I use when students finish their independent work.
Organization: I love organization and have changed the way I store my math centers every year and I am in the process of changing it again.
One year I stored my materials in numbered book boxes on a rolling red cart. Here is a picture of the cart but, not the picture of the math centers in the book bins (I don't happen to have a picture of that!)
Then I changed and had my Math Stations and Daily 5 Word Work bins on this bookshelf:
(I know this has reading stuff on it but, I couldn't find a picture of the shelf with the math bins on it. I used the same book boxes but had my math stations in them).
And Now I am going to put my Math Stations in these containers that have little handles and open with velcro. I have not organized this shelf yet but this is where I plan to store my stations for 11-12. My only delima here is that I have a few things that are too big for the containers so I'm thinking they will be stored in a basket similar to the blue one on the shelf. Right now there are some reading puzzles I stuck on the shelf as I was cleaning up for summer since the custodians are going to be waxing the floors.
This is the cabinet where all of my math manipulatives are stored!
Some future things I am going to ponder, research, and work on:
Making sure my stations are more differentiated
Work on creating I Can charts
Find a place to store my station materials that are not being used
Figure out what to do with oversize materials
Note: I added some more information about my station rotation
here!